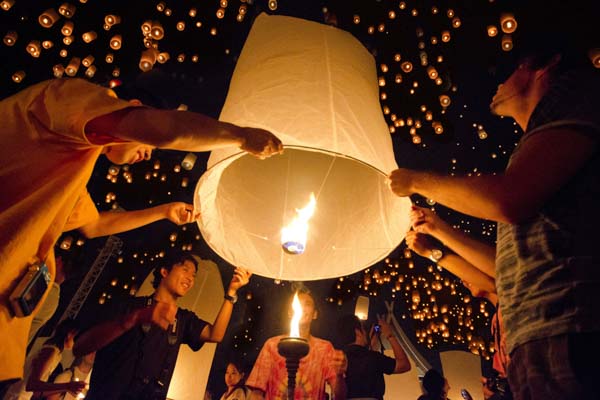 Thais love celebrating and getting involved in festivals and events, be they religious or contemporary. Some of these, like Songkran and Loi Krathong, have been part of local culture for centuries and while the former is a riot of fun splashing, the latter, by contrast, is an enchating festival of light. It's well worth timing your visit to Chiang Mai to coincide with one of these two.
There are national festivals that are celebrated annually in Chiang Mai as well as local festivals that are unique to Lanna culture. Indeed, Chiang Mai is one of the best places in Thailand to participate in Songkran and the Northerners have put their own unique touch to Loi Krathong (called Yi Peng), by letting hundreds of glowing lantern balloons into the night sky. Then there is the delightful Flower Festival every February and smaller, regular festivals.
Here are the most popular events, listed in order of importance, but we suggest you consult our monthly calender of events for up to date info on happenings in the city.
Loi Krathong Festival:  
Loi Krathong is an enchanting 'festival of light' where the sins of the past year are washed down the river by floating small krathongs (banana leaf bouquets with lighted candles and incense).
It is also accompanied by the launching of khom (glowing paper balloons) into the night sky. The sight of hundreds of these dotted about the sky and waterways adds magic to this charming and peaceful celebration. Usually in November.
Songkran Festival:  
Celebrated with a soaking every mid-April (13th-14th), this traditional festival started out with a 'soft sprinkling of water' in villages, coinciding wth the beckoning of the rainy season. These days it's a fully fledged fun water fight that emcompasses every populated part of Thailand, complete with plastic water canons and a daylight party that goes on for a whole week in parts. Chiang Mai's moat area is considered one of the best places in the country to join the fun, centred around streetside bars. Some prefer to hibernate from the traffic chaos, irresponsible kids, drunken drivers and endless din.
Flower Festival:  
Held in early February, this weekend festival closes off the entire south-western corner of the moat as Thailand's extraordinary variety of tropical plants (including near-perfect orchids and ancient bonsais) are displayed in a tapestry of colour. 
Nimmanhemin Arts and Crafts Fair:  
Held during the first weekend of December, when the cool weather brings the crowds of Bangkok tourists to town, this arts and crafts fair is now in its 12th year and has grown to include the large open Think Park across trendy Nimminhemin road. The traditional venue for NAP is Soi 1 (lane) adjacent to the Amari Rincome – a street lined with interior decor shops. During the three day event it becomes crowded with stalls selling all sorts of cute creations in the best tradition of Chiang Mai. 



Chinese New Year:  
Popularly celebrated in Thailand, this involves 'lion dances' and fireworks, following the best traditions of the Chinese descendents in Thailand. The Chinese City pillar near the Flower Market is a focal point of this celebration. Based on the Chinese Lunar Calendar, usually from mid-January to mid-February.
Bo Sang Umbrella Festival:  
This charming event celebrates Chiang Mai's famous parasol industry, based in the handicraft village of Bo Sang, east of the city in San Kampheang. Expect lots colour, parades, music and, of course, pretty rice-paper umbrellas. The 3rd weekend of January, before Flower Festival.
Visakha Bucha Day:  
This is the celebration of the Lord Buddha's birthday, on the full moon of the fifth lunar month (of the present Gregorian Calendar), and the event in Chiang Mai takes on a unique tradition of walking up to Chiang Mai's most famous (and highest) temple; Wat Prathat Doi Suthep. Thousands of people take on this 10kms walk, ascending some 700m, and it occurs in the cooler evening. A festive atmosphere, complete with music and food all along the winding road, makes for an interesting, if strenuous, event. Getting back down again in the traffic jam can be tiresome and take longer than the walk! 
Makha Bucha Day:  
A religious festival also held in February and one of the most important Buddhist celebrations on the calendar. Make you way to Wat Chedi Luang to witness hundreds of people walking around the grounds in a peaceful candlelit procession.
Khao Phansaa:
Is a low-key observation of the coming of the Buddhist lent, in which monks traditionally go into retreat during the rainy season. This is a good time to witness a Buddhist ordination. 
The King's and Queen's Birthdays:  
The King's and Queen's Birthdays (05th December and 12th August respectively) are also mothers' and fathers' day in Thailand and the whole country demonstrates their respect by erecting beautifully decorated pictures and murals to their revered monarchy. 
Wai Khru Day: 
If you have a chance to visit a Thai school, Wai Khru Day (16th January) is a super display of student-teacher appreciation and respect.
Sunday Walking Street:
In Chiang Mai every Sunday a huge Walking Street arts and crafts market is held along Ratchadamnoen Road, featuring buskers, foot massages, loads of traditional food and some delightful wares. It's very popular with locals and tourists alike, and should not be missed. However, throughout the year there are plenty of excuses to hold festivals, and these usually take place in the square outside Thapae Gate and typically involve food, craft markets, singing and dancing, traditions and promotions such as the One Tambon One Product campaign.
Khantoke evenings:
Arguably the best way to enjoy Northern Thai culture is to spend an evening at a Khantoke dinner. Increasingly popular with tourists, these events have evolved into a superb display of the best of Thai culture; including a sumptuous spread of Northern Thai food (served in traditional-style at floor level), classical Thai dancing from exquisitely dressed dancers, and traditional Northern and other Thai music played on unique Asian instruments. Several of these venues are now situated out in the suburbs and take place in beautifully constructed traditional pavilions. There is also a free cultural show every evening at the Night Market.



Further reading…