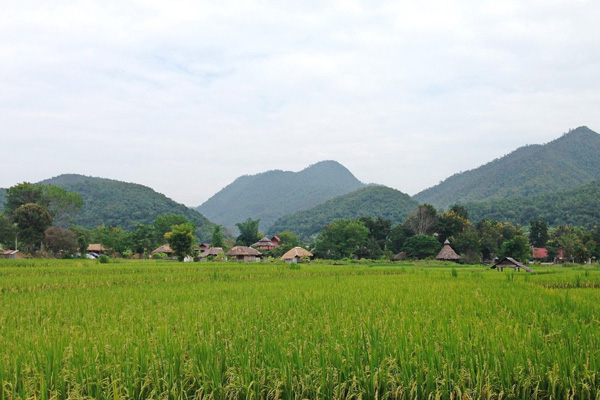 The small town of Pai has become the darling of Northern Thailand travel; not just for the backpacker crowd but also trendy Bangkok Thais who pack the place out in the cold months. With its laid -back pace, bohemian character and cheap bungalows, it certainly has become a chief attraction when visiting Chiang Mai and the north. During the rainy season it is particularly pretty, seated in an elongated valley of terraced rice paddies among the mountains of Mae Hong Son province.
Pai is a great place to chill out for a few days, weeks, or even months at a time. Some stay a while to volunteer in bars, run yoga classes, get creative, or simply live cheaply. If you're a free-spirited type you'll love the place, even though some plush resorts have moved in recently. All the same, Pai retains its charming village feel, where you're likely to meet a few dreadlocked Thais, lots of chilled travellers, and some interesting characters.
Planning your own journeys can be tricky, as timings are never absolute in Thailand especially during the peak season. It's a must to check up-to-date information as well as booking in advance. 12Go Asia is a leading transportation search engine in Thailand and Southeast Asia. They are providing e-tickets for trains, buses, ferries and flights.
Powered by 12Go Asia system
There's also quite a lot of soft adventure on offer, including trekking, elephant rides, rafting or kayaking, caving, dirt biking, as well as new age practices, like meditation and so on. It's a good base to explore the rugged highlands of Mae Hong Son – Thailand's most remote province – including the Pai River and the network of caves in nearby Soppong. Even if you did none of these, the rollercoaster ride up over the mountains to get there is quite spectacular.
The town itself can be crossed on foot in 20 minutes and it sits besides the Pai River crisscrossed by bamboo footbridges. You can stay in a plush riverside guesthouse for 2,000 Baht a night or rent a makeshift bamboo shack for 150 Baht.
Food and drink is cheap at numerous quaint, earthy restaurants, and with so many travellers in town, there's quite a social atmosphere by night in various bars. Some, like Bee Bop, even have live music. Other times you'll be content to sit around a campfire and appreciate the chilled environment.
By day people laze about, head for the public swimming pool, join yoga classes, make handicrafts, volunteer in the local community, or simply do 'nothing'. With a rented bicycle you can explore the valley, visiting the private baths out of town adjacent to Thapae Hotsprings, or even Pai's own canyon. There's also a waterfall north of the town, which is best reached by motorbike. In addition, several elephant camps give you an opportunity to help the mahout.
Recommended Accommodation in Pai: 
There's numerous places to stay in Pai, though the best ones get booked out quickly in the busy season (year end), while some close down in the rainy season. These range from basic, charmless make-shift bamboo huts with mattress on the floor for 100 Baht, to the new boutique places out of town that cost a jaw-dropping (for Pai) 4,000 Baht a night!
Some places enjoy a riverside location, most are down quiet lanes in the town, but the best value places are often a bit out of town, in particular across the river. Some are located on the edge of rice fields or around ponds, others in a lovely jungle environment. You can also find houses or rooms to rent long-stay.
– Bura Lumpai Resort: Sits by the Pai River, surrounded by rice paddy fileds and mountains. Featuring a wide range of services and amenities such as restaurant, tour, WiFi, transfer and traditional Thai massage service, outdoor pool and garden. Rooms come with air conditioning, terrace, minibar, cable TV, bathroom and shower facilities…more details and booking
– Canary Guesthouse: Peacefully sits on the banks of Pai River and 1.6km from the downtown. It has everything you need for a good night's sleep such as free WiFi, a fan, mosquito net, private bathroom and cable TV…more details and booking 
– D2 Pai Resort: Sits just a 5-minute drive from Pai Airport. A 13-room hotel offers comfortable rooms with facilities such as air conditioning, LCD TV, free WiFi and bathroom with a shower. The on-site restaurant offers a variety of Thai cuisine…more details and booking
– Hotel Pai Country Hut: Located just 100m from Pai Walking Street and a 10-minute drive from the airport. It features the wooden furnished cottages overlook the mountains and come with basic facilities like free WiFi, a fan, balcony, mosquito net and shower facilities…more details and booking
– Mari Pai Resort: A cozy resort surrounded by the rice paddy fields, just a kilometer away from the heart of town. Features air-conditioned rooms with free WiFi, balcony, cable TV and bathroom. The on-site restaurant offers both international and Thai dishes…more details and booking
– Pai Hotsprings Spa Resort: An oriental chalet styled resort, sets on the bank of Pai River, a 30-minute flight away from Chiang Mai. Featuring hotspring public pool and accommodation with mineral spring water piped into each bathroom. Enjoy traditional Thai massage service & restaurant on-site…more details and booking
– Puripai Villa: This unique accommodation style sits on a hillside, a 5-minute drive from Pai Airport. Features wooden flooring and furnishing villa with a variety of modern facilities such as free WiFi, LCD TV, DVD player and bathroom. It's an ideal for a private retreat…more details and booking
– Yoma Hotel: Located in the heart of the city, just one kilometer from Pai Airport. A perfect place for retreat and relaxing. Offering air-conditioned rooms with a private balcony, satellite TV, free tea & coffee, bathroom with shower facilities. There're outdoor pool and restaurant on-site…more details and booking
When to Visit Pai:
Pai is enjoyable most of the year, although the hot and hazy months of March and April are not pleasant across Northern Thailand due to rampant vegetation burning (slash 'n burn) by poor, careless farmers. The rainy season is perhaps the best time to visit since it's not too crowded, yet is pretty with the rice fields maturing. It doesn't rain incessantly, and the cloud cover cools everything down somewhat, too, as well as turns the landscape into a lush, green carpet.
December is by far the busiest month for Pai, when Bangkok Thais love coming up for the cold weather and 'cutesy, artsy experience', which is oh so trendy. They bring their traffic jams with them, pack the place out and are best left to it. From January, they all disperse but it does remain popular with backpackers during this high season, so accommodation becomes hard to find.



Getting to Pai:
Buses leave several times a day from the Eastern main terminal where the Bangkok buses depart from. It is advised to get there early to secure a seat; however, there are also private minibuses that can be arranged from your guesthouse – journey time can be up-to four hours. The cheap public bus leaves at 10:30 and 14:00 but can be crowded. A better option is by minibus (150 Baht) leaving hourly from the Northern end of the bus terminal, taking three hours.
It is practical to rent a motorbike and ride there yourself, though you need to be confident on a bike since the road is steep and windy in parts and local drivers are known to be reckless. One person per bike is suggested, and bigger bikes are more useful. These are widely available in Chiang Mai from 200 Baht a day, while a car costs from 1,000 Baht. Look out for the GT Riders' Mae Hong Son Loop map on sale, so you don't get lost. It takes three hours with a short break at a steady pace on a bike, or as little as two hours on a real bike if you know what you're doing.
There are also daily flights with Kan Airlines planes for about 1,500 Baht (one-way), which is a fun way to see the mountains, though a little expensive given the short flight time.
Pai is also a good stopover point on the popular Mae Hong Son loop. This is a three-day, self-drive/ride excursion leaving from Chiang Mai and winding through the incredible mountain scenery of the North to the frontier town of Mae Hong Son and back via Doi Inthanon National Park. Along the way, you can experience the beauty of Huay Nam Dang National Park (before Pai), the caves at Soppong, and numerous waterfalls. 
Warning!

Pai has a police problem. Over the years, as Pai has attracted more and more dope-smoking hippie types, the local police have become increasingly zealous and heavy handed in keeping order. The fact that Pai is near a major drug-smuggling border compounds the issue. They periodically conduct random urine tests in bars and arrest travellers for possession, or even positive tests, locking them up for a few days before releasing them upon remittance of a 'fine' that is usually more than 10,000 Baht.
Pai is actually a laid-back and safe place, but over the years law enforcement in this sleepy town has earned a reputation for thuggish behaviour, with business owners complaining of unfair pressure. Finally, in January 2008, a young Canadian tourist was shot dead in an 'incident' with an off-duty cop. The official police version seems inconsistent with eyewitness reports, and the accused was released without charge. This same cop was later involved with the murder of his young wife!
When in Pai, avoid trouble and stay clear of drugs; otherwise don't come at all if in doubt.
 Further reading…