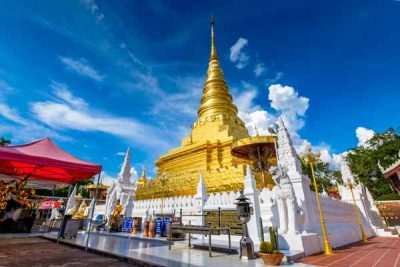 Nan is one of Northern Thailand's most remote and peaceful provinces and the town and country provide a nice escape from Chiang Mai. The sleepy town was the centre of an independent little kingdom right up to the turn of the 20th century and has some ancient sites. It is cradled in a lush valley roughly 320kms east of Chiang Mai near the far north-eastern border with Laos. Little visited by mainstream tourism, it does, however, have mountainous wildernesses, wild rivers and lovely rural scenery.
Nan is a typically unhurried provincial town with empty streets and a surprising collection of notable temples with impressive legacies. This makes it worth a visit if you really want to explore the north of Thailand, because it can be easily combined with a trip to Chiang Rai and Phayao.
It's also a great place for trekking if you really want a unique experience, since the province is so remote and unspoiled. In fact, it's home to the rarely seen Thai Lu, Htin and Khamu hilltribes, as well as the intriguing Mlabri nomadic hunter-gathers, who are known to the locals as 'ghosts of the forest'. Fewer than 300 are known to exist in Thailand and their lifestyles are extremely primitive.
Planning your own journeys can be tricky, as timings are never absolute in Thailand especially during the peak season. It's a must to check up-to-date information as well as booking in advance. 12Go Asia is a leading transportation search engine in Thailand and Southeast Asia. They are providing e-tickets for trains, buses, ferries and flights.
Powered by 12Go Asia system
In Nan, there are several well-known temples worth visiting. Phrathat Chae Haeng is a 600-year-old community situated three kilometres from Nan (highway 1168, Nan-Mae Charim) and was built in the Sukhothai period. Here, on the full moon day of the fourth lunar month (between the end of February and the beginning of March), the annual Worshipping Fair takes place and is a celebration of fireworks and offerings processions. The elevated site has a walled compound and gilded chedi supposedly containing a relic of the Buddha.
Worth a quick stop is the Nan National Museum, which is on highway 101 just before the town. It has displays of black ivory and various kinds of artefacts. The highlight of the museum is the 'Black Elephant Tusk', measuring 94cm and weighing in at 18kg.



Near to the museum, Wat Phumin is located in Phumin Village and has beautifully-carved wood doors facing four directions. Inside, mural paintings display the way of life and culture of the past. Other temples worth seeing in the area include: Wat Suan Tan in Tambon Nai Wiang, which features a 4.11-metre high bronze Buddha image; Wat Chang Kham, constructed in 1426 in the heart of Nan, and Phrathat Khao Noi, a pagoda which is on the top of Khao Noi Hill.
If you have time, you won't want to miss the kat laeng (evening market) on the banks of Nan River. Highlights include traditional Thai handicrafts, souvenirs, and various types of other products at bargain prices. Nature lovers should visit Pha Toob Arboretum, 12kms  from the town on highway 1080; an area that features many caves.
With a prime location in the hills on the border with Laos, Nan offers nature treks and tours of three or four days, including white-water rafting, elephant riding and a visit to rare hilltribe communities. With fewer trekkers here than in the more commercial areas of Thailand, paths are less worn and the nature is a bit more untouched.
Many people visit the province in October and November for the Nan Traditional Boat Race. This festival is part of the celebrations of the Black Ivory and the local Tod Kathin, and the elaborately decorated boats are made from large logs. It's certainly a highlight on the province's tourist calendar.
Thai Airways International operates a daily flight from Bangkok to the city of Nan. From Chiang Mai, the most practical way to reach Nan is to hire a car and drive the three-hour, round-about route east, enjoying the scenery as you go. The area is prettiest during, and immediately after, the rainy season when the rice is near harvesting, creating a carpet of green everywhere. You can take a circular route, approaching via Phayao Lake and returning via Phrae to the south – once the domain of vast teak forests.
Recommended Accommodation in Nan:
Dhevaraj Hotel: Sits in Nan's city center and 5km from Nan Airport. A 160-room hotel is considered as one of the region's finest hotels. Each room is furnished with contemporary décor and set with all the necessary amenities. The on-site restaurant offers a live entertainment and a variety of Thai and international dishes…more details and booking
Nan Boutique Hotel: Perfectly sits in Nan's city center and easy access to the main attractions like the old temples, memorials and traditional markets. Nan Airport is only 10-minute drive away. The hotel provides everything you need for a pleasant stay…more details and booking
Nan Guesthouse: Offers tours and bike rental down a quiet lane in the centre of town…more details and booking
Nantrungjai Boutique Hotel: A modern hotel, sits only 2km from Nan's city center. Features a selection of quality facilities such as 24-hour room service, free Wi-Fi throughout property, 24-hour security, daily housekeeping, outdoor pool, Karaoke and a souvenir shop. An ideal place to hideaway and relax after a long busy day…more details and booking
Pukha Nanfa Hotel: A modern Thai style hotel, sits only 1km away from the city center and a 5-miute drive from the airport. Features a quality accommodation and a wide range of facilities such as a library, Thai massage, car & bicycle rental services and restaurant. All rooms come with air-conditioning, LCD TV and private bathroom with a hot-water shower. A perfect place to relax and unwind…more details and booking
Sasidara Resort Nan: A small resort, sits only 4km to the Laos border and a 10-minute drive from Nan Airport. All rooms come with the essential facilities such as TV, refrigerator and bathroom. The on-site restaurant serves an authentic Northern Thai dishes…more details and booking
Srinual Lodge: A 25-room hotel, sits in the heart of Nan's city center and a 3-minute walk to main attractions like temples and museum. Features rooms come with free WiFi, air conditioning, TV and bathroom with a shower. It's your one-stop destination for quality hotel in Nan…more details and booking



Further reading…