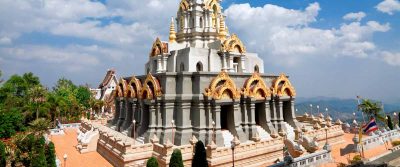 X
Mae Salong, Santikhiri (Hill of Peace) as it is sometimes called, is a small town perched high on the mountains some 1,800m above sea level, around 80kms northwest of Chiang Rai. The high altitude of the village means that it is characterised by a cooler climate than most of Thailand; its third name of 'Little Switzerland' thus being apt.
If you visit Mae Salong in the right season, you will be treated to the sight of spectacular blooming Japanese cherry trees – an unusual visual extravaganza in Thailand's otherwise humid climate. It is also a prime tea growing region populated by Chinese immigrants, which gives it a tourist appeal. 
Mae Salong has an interesting history, having been chosen as a place of refuge by a significant number of Chinese Kuomintang (KMT) soldiers who fled from the communist regime in 1949. Today, there is still a large Yunnan Chinese population, imparting a strong cultural influence to the town.
Chinese temples are scattered through the area and many of Mae Salong's shops offer Chinese specialties, such as Chinese jade, preserved fruit, dried mushrooms, herbs and wines, while restaurants serve predominantly southern Chinese cuisine. Architecture, too, is typically Chinese, giving the town its own distinct appearance.
On the hill above the town is a rather distinctive, new chedi (named Boromathat) that was built in honour of the late Princess Mother. From here you can gaze out across mountainous frontier which was, 10 years ago, off-limits due to the area being controlled by notorious opium baron Khun Sa.
The town's mountainside location not only means that it is blessed with a crisp, cool climate, but also endows it with incredibly lovely views across its alpine-like landscape. The drive to Mae Salong winds its way up a breathtaking mountain pass, and the experience of getting there is just as enjoyable as the destination itself.
Tea is Mae Salong's most important crop and a variety of local and imported strains are cultivated on mountain terraces. Tea shops are a trademark feature of Mae Salong, and a pleasant pastime for visitors is to wile away the hours in one of these atmospheric establishments, sipping away at a favourite brew. Fruit growing is also a popular agricultural practice, and the area is famed for its deliciously-sweet peaches and lychees.
The nearby Akha and Lisu settlements use Mae Salong as a profitable market base from which to sell their wares, and you can choose from a good selection of traditional local handicrafts here.
From early January, Mae Salong and the surrounding region comes alive with the advent of gorgeous cherry blossoms, adorning the trees that flourish in Mae Salong's clear mountain air. The Sakura Route is the name given to a four-kilometre stretch of road leading to the town that literally glows with pink flowers at this time of year; an ideal season to visit Mae Salong.
Mae Salong can be accessed from Chiang Rai in approximately two hours by bus or songtheaw. From Chiang Rai, take a bus heading for Mae Sai and get off at Pasang. From there, take a taxi to Mae Salong.
Recommended Accommodation on Doi Mae Salong:
Doi Isara: Situated at Mae Salong Nai and 33km away from Chiang Rai downtown. All air-conditioned rooms come with flat-screen TV and a private bathroom. It features a barbecue and sun terrace as well as tennis court…more details and booking
Hongfu Boutique Resort: Quietly sits in Mae Salong Nok, a 70km drive from Mae Sai. Features comfortable rooms with a private bathroom, free WiFi in public area, car park and on-site restaurant. Designed for both business and leisure travelers…more details and booking
Katiliya Mountain Resort & Spa: Surrounded by rainforest, this resort sits on top of the hill. All services and facilities are provided to ensure a pleasant stay. It features outdoor pool, fitness center, children's playground, babysitting service, spa & massage treatment, bar and restaurant…more details and booking
Mae Salong Mountain Home: Sits in the area of Mae Salong Nok and a 3-hour drive from Chiang Rai Airport. It features all thoughtful amenities for a comfortable stay…more details and booking
Mae Salong Villa: Conveniently sits in Mae Salong with easy access to the main attractions. The hotel provides rooms with all essential amenities for your pleasant stay. The recreational facilities are included on-site restaurant and gardens… more details and booking
Manee Dheva Resort & Spa: A typical Northern Thai-styl villa surrounded by rice paddy fields and mountains. Sits in Mae Salong Valley, a 40-minute drive from Chiang Rai Airport. All rooms are equipped with a private terrace, free WiFi, LCD TV, a shower and a bathtub. The on-site restaurant comes with excellent dining options…more details and booking
Phumektawan Resort: This 19-room resort sits in Mae Salong Nok. The Chiang Rai Aiport is 60 km away. It has everything you need for a good stay including on-site restaurant. It's a perfect place to relax and hideaway…more details and booking
Phu Chaisai Mountain Resort & Spa: Sits amidst 500 hectare of mountain forest. Features gentle hospitality, open-air spa, library, infinity pool and giftshop. The on-site restaurant offers the authentic Thai cuisine. A perfect place for retreats and getaways…more details and booking
Rai Kaset Phu Praewa Hotel: Located in Mae Chan and 30km from Chiang Rai Airport. To ensure all guests feel comfortable, it offers a selection of quality facilities such as free WiFi, daily housekeeping, taxi service and outdoor pool. The on-site restaurant offers a variety of Thai and western dishes…more details and booking
Note: 
To secure a guaranteed room and find the best rate
Mae Salong Hotels
, we suggest you look online at
Agoda.com
. They seem to be the most competitively priced of the hotels sites.
Further reading…