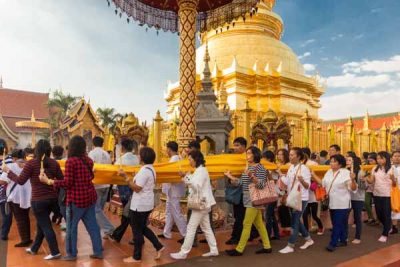 Lamphun, just 26kms south of Chiang Mai, is famed for beautiful women, bountiful orchards and the stunning Wat Phra That Hariphunchai; a classic example of Northern religious architecture. Similar to Chiang Mai, Lamphun is also surrounded by a preserved ancient moat.
Legend handed down for more than 1,400 years refers to this ancient town as Hariphunchai. Its first ruler was Queen Chamthewi, who was of Mon extraction. In the late 12th century, King Mengrai of Chiang Mai overran the town and subsequently integrated it into the Lanna Kingdom. Picturesquely located on the bank of the Kuang river, Lamphun has attractions which include ancient sites and relics, as well as forests and mountains and delightful lakes. Lamphun is the most famous producer of longan fruit in Asia.
Situated mid-town, Wat Phra That Hariphunchai was built some 800 years ago during the reign of King Arthitayarat; a descendant of Queen Chamthewi. A principal landmark is the 46-metre-tall golden chedi, and its present appearance was the result of the restoration work in 1443 by a king of Chiang Mai. It has long been regarded as a major place of worship. Other architectural works include the ancient-style brick arch adorned with fine designs and the pair of sculptured lions at the door. There is also a square-shaped chedi and a Khmer-style Buddha statue.
Located on Inthayongyot road, almost opposite Wat Phra That Hariphunchai, is the Hariphunchai National Museum, whose exhibits feature historical development and archaeological items found in Lamphun. They include prehistoric human skeletons and objects of arts from the Dvaravati, Hariphunchai, Lanna and Rattanakosin periods.
The Phra Nang Chamthewi Statue is located in Nong Dok public park in town and commemorates the first ruler of Hariphunchai, while in front of the Town Hall is the statue of Suthewa Rusi; a legendary ascetic reputed to be the actual founder of Hariphunchai. It's quite pleasant to stroll around the unhurried and traffic-free streets of this sleepy town to get an idea of an ancient Thai city, which has not yet been overrun by tourism.



Not to be missed is Wat Chamthewi, commonly referred to as Ku Kut. It is located on the Lamphun-San Pa Tong road, about five kilometres out of the centre. Built in 755 AD in the Lawo (Lopburi) style, the temple features a chedi that is a square structure similar to Buddhagaya in India and one of the few such examples remaining in Thailand today. Around the chedi are levels of arches holding a total of 60 Buddha statues. Ashes of the queen are enshrined within the chedi.
Another ancient site related to the old history of the town is Wat Phra Yun. The Ku Chang-Ku Mah Chedi at the temple is surrounded on four sides by standing statues. The chedi itself is cylinder-shaped and commemorates Queen Chamthewi's war elephant and her son's steed.
Ban Nong Chang Khun is the most famous longan growing area in the country. The orchards are located some eight kilometres before Lamphun and with a further seven kilometres after a right turn. On both sides of the road are numerous longan orchards and the fruits are in season during July/August. Longans, which are similar to lychees, were introduced to the area during the reign of King Rama V and have since spread into neighbouring provinces. There are several species today which are popular among consumers.
The most well known event in Lamphun is the Song Nam Phra That Hariphunchai, which dates back to the olden times. Held to celebrate the province's principal religious site, it takes place in May. Another event is the Longan Fair in August, which is designed to promote this hugely popular produce. There are also the beautifully decorated Longan Parade and longan contests, as well as a Miss Longan beauty pageant.



Further reading…