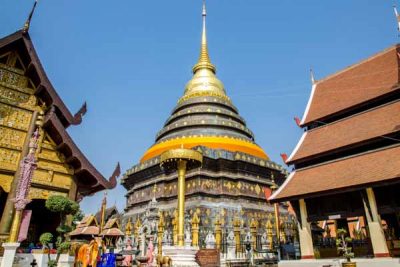 Famous for its horse-drawn carriages, Lampang boasts a long history of human settlements on the Wang River basin, some of which date back more than 1,000 years. It is rich in archaeological evidence reflecting the ancient civilisations of Hariphunchai, Lanna and Burma. Though it's far less appealing to tourists than Chiang Mai, it does have a number of important sites and is a good example of a typical Thai town.Located 600kms north of Bangkok and 100kms south of Chiang Mai, Lampang is noted for several Burmese-style temples (including Wat Phra Kaeo Don Tao and Wat Si Chum), the magnificent Wat Lampang Luang, and the Thai Elephant Conservation Centre.
The centuries-old Wat Phra Kaeo Don Tao used to be the place where the Emerald Buddha was once enshrined – the same statue now resides in the temple of the same name in Bangkok. Interesting structures include the large chedi containing an alleged hair of the Buddha, a Burmese-style Mondop, an ancient vihan housing a reclining Buddha, and a museum exhibiting ancient relics of the Lanna era.
Planning your own journeys can be tricky, as timings are never absolute in Thailand especially during the peak season. It's a must to check up-to-date information as well as booking in advance. 12Go Asia is a leading transportation search engine in Thailand and Southeast Asia. They are providing e-tickets for trains, buses, ferries and flights.
Powered by 12Go Asia system
Also in the town is Wat Pa Fang, built during the reign of King Rama IV by the Burmese. It features a large, glittering gold chedi containing a holy relic, which was brought over from Myanmar around 1906. The extensive Sala Kan Parian (preaching hall) is made entirely of wood with Burmese-style overlapping roofs. Opposite Wat Pa Fang is Wat Chai Mongkhon, another outstanding example of Burmese Buddhist architecture.
Considered to be the most beautiful temple in Northern Thailand, Wat Phra That Lampang Luang is a masterpiece of Lanna-style temple architecture. Located 50kms from Lampang city, the highlight is the 15th century Wihan Luang, which features a triple-tiered roof propped up by huge teak pillars. Also of note are the tall Lanna-style chedi, the small Wihan Phra Phut, and Wihan Ton Kaew. It is, however, some distance out of town and you will need to take a taxi if you don't have wheels. Thais come from all over the country to visit this particular religious site.
Kiu Lom Dam, about 52kms from Lampang city, is popular for nature lovers. The scenic reservoir is suitable for boating or rafting, with sights including cliffs, islands and fishing villages. Visitors can even opt to stay overnight on a raft. Farther out of the way, Chae Sorn National Park boasts a pleasant waterfall and some great hot spring baths. From here, you can follow a pleasant, yet very steep, road over the hills and down into San Khampaeng in Chiang Mai valley.



Thai Elephant Conservation Center: Located alongside the road to Chiang Mai, is considered one of the best places in all of Thailand to view these huge beasts. It's less touristy than others in Northern Thailand and is noted for its efforts to rehabilitate domesticated elephants. It includes an elephant hospital and the mahout courses (one to three days) are a popular and unique way to get to know these jungle work horses. The whole environment appears more natural and comfortable for the elephants. 28-29, Lampang-Chiang Mai Highway, Hang Chat, Lampang. Tel: (054) 829 333, Email.
The two most popular festivals in Lampang are the Luang Wiang Lakhon Fair, held just prior to the annual Loi Krathong festival, and the Khantok Chang Fair, held on the first Friday-Saturday period of February each year. The first features a Khrua Than procession, with local people dressed in native attire and carrying various traditional household appliances, some of which are of ancient vintage.
The latter festival is held at the Thai Elephant Conservation Centre and features an elephant show. The elephants are feasted with their favourite fruits and vegetables, which are placed on the Tok, a traditional food tray of the Lanna people.
The drive to Lampang from Chiang Mai is an impressive one, meandering as it does through low-lying hills. Journey time is about an hour at moderate pace along dual carriageway.
Recommended Accommodation in Lampang:
B2 Lampang Hotel: Sits in the city center and easy access to the main attractions. This hotels provides everything you need for a comfortable stay including free WiFi and 24-hour front desk…more details and booking
Baan Fai Guesthouse: located out of town is this old teak house is on the riverfront with a lovely big garden and large floral variety. 281 Moo 2, Lampang-Chiang Rai Rd. Tel: (054) 335 238.
Baan Kham Wan Hotel: A 4-bedroom hotel, sits in Lampang's city center. Offers every effort is made to make guests feel comfortable. A stylish room come with air conditioning, free WiFi and LCD TV. An ideal for relaxation and exciting break away…more details and booking
Hotel Siri: Sits 9.9km from from Lampang's city center and easily reach the main attractions. It features enjoy free Wi-Fi in all rooms, 24-hour front desk, Wi-Fi in public areas, car park and bicycle rental. An ideal place for a comfortable and convenience stay in Lampang…more details and booking
Lampang River Lodge Hotel: Sits by the Wang River. Surrounded by nature, it features Lanna Thai style bungalow comes with air conditioning, terrace and a bathroom. Hotel's facilities include outdoor pool, restaurant and massage service…more details and booking
The Cottage Lampang Hotel: A stylish hotel, sets 0.5 km from the city center. All rooms come with LCD TV, free WiFi and bathroom with a shower. An excellent choice for your pleasant stay in Lampang…more details and booking
The Riverside Guest House: Lovely teak mansion set in wonderful gardens on the Wang River with a range of accommodation options at reasonable prices. They also have a variety of services…more details and booking



Further reading…