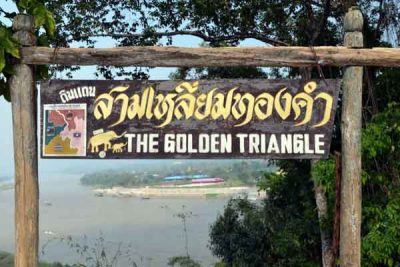 The infamous Golden Triangle – where the borders of Thailand, Myanmar and Laos converge – is Chiang Rai province's most popular attraction, luring thousands of visitors annually. This notorious area, not far from the historic town of Chiang Saen, is bolstered by its history and the surrounding towns. Its riverfront position at the confluence of the Mekong and Ruak rivers lends it a unique appeal.
Located near the northernmost point of Thailand, the Golden Triangle was once the centre of all opium poppy growing in the country, and actually refers to a large area of the three bordering countries. However, the point of actual convergence of these borders is what most people now call the Golden Triangle. Here, the illicit crops have long since been replaced by the small tourist village of Sob Ruak, and today the roads are flanked by countless small restaurants and vendor's souvenir stalls along the banks of the Mekong. 
Sob Ruak's most enjoyable tourist pastime is its boat tours. Longtail boats are available for hire here, and cruising up and down the Mekong River allows visitors a glimpse of village life in the many riverside settlements – particularly over into Laos. It's a good way to escape the many tour buses and gatherings that roll into town daily. There is also a casino, popular with Thai folk, over on the Myanmar side and special arrangements have to be made to get there – though they are not difficult.
Planning your own journeys can be tricky, as timings are never absolute in Thailand especially during the peak season. It's a must to check up-to-date information as well as booking in advance. 12Go Asia is a leading transportation search engine in Thailand and Southeast Asia. They are providing e-tickets for trains, buses, ferries and flights.
Powered by 12Go Asia system
Accommodation in Sop Ruak is supplied by two hotels of international standard – the Imperial Golden Triangle Hotel and the more upmarket Baan Boran. Nearby is the Anantara Resort, which is in a league of its own. Baan Boran has a lovely terrace restaurant with outstanding views of the Mekong valley and lush green undulations beyond, and is an excellent place for lunch, even if you don't plan on an overnight stay. From Sop Ruak, it is also possible to organise trekking tours to some of the many hill tribe villages that are located in the outlying areas.
The area's legacy of opium production, usage and trading – which continued right up until the 1980's – is well documented in two museums. One is found right in Sop Ruak, while the newer and more extensive one, the Hall of Opium, is a little out of town. The latter was US$10 million in the making and is world class and highly recommended.



Nearby Chiang Saen features some ancient, unspoilt temples Wat Pa Sak, dating from 1295, has a vast stupa surrounded by smaller temples and chedis, while Wat Chedi Luang boasts a massive brick chedi that originated in the 14th century. The Chiang Saen Museum exhibits a variety of local artwork, ranging from handicrafts made by people from the surrounding hill tribes to ancient Lanna-style artefacts. In fact, Chiang Saen was once the capital of Lanna, before being usurped by Chiang Mai, and for centuries has been an important trading town in the area on account of its position on the Mekong.
Mae Sai, the Thai border town lying on the division between Thailand and Myanmar, is an additional tourist attraction of the Golden Triangle region – a typical frontier trading town with a hilltop temple.
Crossing over the border into the Burmese town of Tachilek gives visitors the opportunity to renew their 30-day visa to continue staying in Thailand. The fee for this is 400 baht and formalities are quite simple. Those replenishing the free 30-day visa waivers will get another 15 days.
Although Tachilek is essentially an impoverished Burmese town with few attractions, it is popular for its shopping, where a large market offers a variety of inexpensive goods (some of very dubious quality) from China. Original and fake DVDs and CDs, covering a broad range of popular titles, are available for as little as 60 baht.
The Golden Triangle is most easily accessed from Chiang Rai, which is accessed via bus or plane from Bangkok, Chiang Mai and other destinations. Hiring a car for the journey from Chiang Mai is worthwhile as the drive is lovely, but be careful of reckless driving on this windy route. An alternative route, via Thaton, is recommended. The drive along the Mekong River from Sob Ruak to Chiang Kong is lovely, and the latter town has some peaceful riverfront guesthouses. It is also here that you can board boats to Luang Prabang in Laos – a traditional two-day journey, now popular with backpackers.
Recommended Accommodation near Golden Triangle:
Anantara Golden Triangle Elephant Camp & Resort: Sits amidst rainforest and overlooking the hills of Myanmar and Laos. This modern Thai style resort features rooms with Maekong River views and equipped with a flat-screen TV, satellite TV, DVD player, minibar and a bathroom with a bathtub. The on-site restaurant offers international breakfast buffet and a variety of dining options…more details and booking
Chiangsan Golden Land Resort: Located in Wiang and 10km from the Golden Triangle. Features rooms come with air conditioning, balcony, cable TV, refrigerator and bathroom with a shower. A haven of rest and relaxation…more details and booking
Gin's Maekhong View Resort and Spa: This modern resort sits in Chiang Saen and only 1km from the city center while the Golden Triangle is a 10-minute drive away. Resort's facilities include free Wi-Fi, daily housekeeping, sauna, outdoor pool, garde, spa treatment, massage service and car park. A smart choice for your stay in Chiang Saen…more details and booking
Imperial Golden Triangle Resort: A 73-room resort sits on the banks of Mekong and Ruak Rivers. Chiang Rai is a 90-minute drive away. Features outdoor pool, free WiFi and restaurant. All rooms are equipped with teakwood furniture, air conditioning, satellite TV, a private balcony and minibar. A perfect place to relax and hideaway…more details and booking
Serene at Chiang Rai Hotel: A contemporary boutique hotel, sits by the Maekong River. Features air-conditioned rooms with city or river views come with a private balcony, cable TV and minibar. The ideal place for a peaceful holiday and away from the crowds and city noise, Serene at Chiang Rai Hotel could be the ideal choice. …more details and booking
Siam Triangle Hotel: Located in the city center, 15-minute drive from the Golden Triangle. Features stylish rooms come with air conditioning, TV, balcony, refrigerator and tea & coffee maker. The on-site restaurant offers the extensive dining options…more details and booking



Further reading…