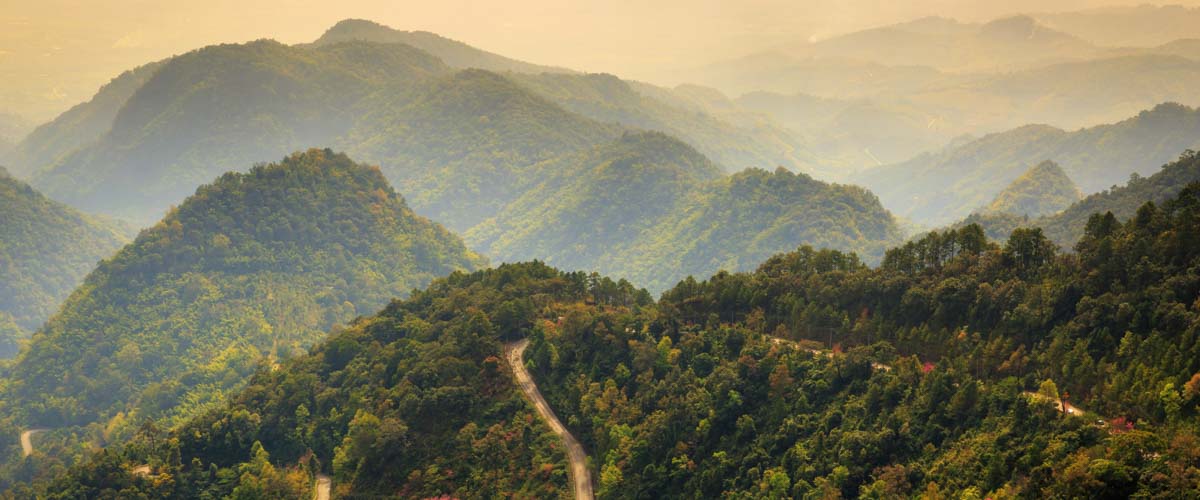 Not many tourists make their way to this rugged mountainous area bulging out of Northern Thailand's border, but those who do are rewarded with breathtaking views of a wild frontier, with uninhabited hills stretching out as far as the eye can see into Myanmar's remote Shan states. In the bowl-shaped valley nestled in the centre of this massif, you will find a comfortable resort, some guesthouses, a productive agricultural centre with colourful gardens, and a scattering of hill-tribe villages.
Located about 150kms north of Chiang Mai, the area of Doi Angkhang offers a remote experience that has yet to be overrun with tour buses and camera-toting visitors. The highest peak is 1,300m and is accessible by car, and with cool temperatures all year round it's not surprising Doi Angkhang is referred to as the 'Little Switzerland' of Thailand.
The road descends into a small village located in the bowl-shaped valley from which the area takes its name, and here you'll find the plush Amari Angkhang resort – promoted as an eco-friendly lodge. They have made a particular effort to use local resources, including people, into their day-to-day operation and have minimised their effect on the environment. The resort is beside a hillside forest reserve full of nature trails, and there are also bird-watching activities, as well as horseback riding and even mountain biking trails for the brave.
In the nearby Doi Angkhang village, you will encounter a market where hill tribe folk sell their woven and handicraft products, and a few modest guesthouses can be found. The road continues along the valley for a further three kilometres before terminating at a forestry centre. Here you can witness first-hand the successes of the King's project to wean the local people off opium production and onto more acceptable agriculture.



Evidence of wide-scale poppy harvesting in the past can still be seen on the swathes of cleared mountainside. But today, this national Royal project, which was piloted in this area 20 years ago, has left the area covered in greenhouses. You can visit these and purchase organic vegetables and fruit, as well as potted plants, and visit the excellent flower gardens here, which include a large English rose garden and rows of Rhododendrons.
The atmosphere is quiet and peaceful with walls of mountains in all directions. You also have the opportunity to visit some of the villages of the several different hill tribes who live here, including the Lahu, Lisu and Hmong, as well as the rare Palong. There is a settlement, Baan Nong Mai Bua, populated by the Chinese KMT who escaped to the region 50 years ago after Mao defeated Chiang Kai Shek. Even today it remains very Yunnanese in character. It's possible to drive right up to the border post and gaze across at the ramshackle Burmese army camp and sweeping landscape beyond.
Renting a car and finding your own way is about the only realistic means of getting to Doi Anghkhang; other than private tour. Doing this adds to the appeal as your snake your way up impossibly steep hairpin turns. If you approach from Wiang Haeng in the west on route 1178 or 1340, you get the more spectacular views and have a chance to stop off at Sri Sang Wang waterfall, one of the north's prettiest but often overlooked.
Resort in Doi Angkhang:
Angkhang Nature Resort: Is a luxury option in a lovely setting with a range of eco-activities and a good restaurant…more details and booking



Further reading…