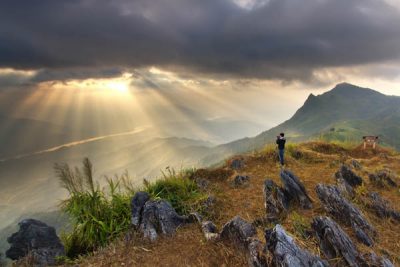 Chiang Rai city is the capital of Thailand's northernmost province of the same name and is located approximately 180kms northeast of Chiang Mai. The city has a distinguished history that stretches back to the reign of King Mengrai, who established Chiang Rai as the capital of the Lanna Kingdom in 1262 before moving south to Chiang Mai three decades later.
With historic monuments of its own, but without the brass rubbing of mass tourism, it is far quieter than Chiang Mai, though less polished. 
Chiang Rai and its surrounding areas present a wealth of attractions for visitors, and it is the province's rural attractions that appeal to tour groups. All the same, an afternoon spent wandering the pleasant town, or relaxing at a riverside hotel is enjoyable.
Culturally, Chiang Rai is a mishmash of ethnic communities, and the city is peppered with a varied selection of religious structures that serve these different groups. Wat Phra Singh, in the northern section of the old town, contains one of oldest Buddha images in Northern Thailand. However, it is the abundance of hill tribes in the provincethat add an interesting facet to the city – and the streets are sometimes awash with colour as these minority groups in their bright traditional costumes hawk their wares.
Planning your own journeys can be tricky, as timings are never absolute in Thailand especially during the peak season. It's a must to check up-to-date information as well as booking in advance. 12Go Asia is providing the quality of e-tickets for trains, buses, ferries and flights.
Powered by 12Go Asia system
Wat Phra Kaew (Temple of the Emerald Buddha) has the same name as the more famous temple in Bangkok. It was from this northern temple that the revered jade Buddha statue – now displayed in Bangkok – was stolen in 1436 and taken off to Laos. When it was eventually reclaimed, several centuries later, it found a new home in the Grand Palace of Bangkok. The ancient mosque in Issaraphap Road has been in existence for over a hundred years, and the Buddhist temple of Wat Thai Yai is distinctively Northern in style.
Chiang Rai also features two worthwhile museums, Haw Kham Mae Fah Luang Royal Museum and the Ob Kham Museum. The former, which can be found on Rajyotha Road, exhibits religious artefacts in an old teak house and is encircled by manicured gardens and an attractive lake. Ob Kham, near the military hospital, displays objects pertaining to the extensive history of the Lanna Kingdom.
Flowing through the centre of Chiang Rai is the 130-kilometre-long Mae Kok River, which offers ideal opportunities for rafting. It is one of Thailand's most unspoilt rivers, meandering through jungle-covered landscapes and between steep mountain cliffs. A popular activity is to catch boats in Thaton, 100kms northwest, and find your way to Chiang Rai by water. The river bank has created a fresh water beach just west of town, Had Chiang Rai or Pattaya Noi, and the sandy stretch is known for its fabulous view and a scattering of restaurants and shade houses.
The city has an abundance of markets, selling a myriad of goods ranging from fresh foods to flowers, clothes and souvenirs. The Night Bazaar, between Pahonyothin Road and the bus stop, is a bustling melting pot of cabaret shows, well-priced food, open-air bars and stalls selling an enticing selection of local handicrafts, jewellery and art.



Day Trips from Chiang Rai
Outside the city are a number of popular attractions, the most significant of which is the famed Golden Triangle – the site where the borders of Thailand, Laos and Myanmar meet on the Mekong River. There are two very good reasons to make the day trip here from Chiang Rai: the world class Hall of Opium Museum, and the ancient town of Chiang Saen. The latter is a living museum of ancient ruined temple complexes and city walls dating from an era when the city was the most important in all of Northern Thailand.
Another popular stop for tours of the area is Doi Mae Salong; a small mountainside settlement approximately 80kms from Chiang Rai, where a high percentage of the population consists of Chinese immigrants. It is known for its high quality tea and fruit crops, panoramic views, and cherry trees that bloom magnificently in January.
Situated at 2,000m above sea level, on the peak of Doi Tung is Wat Phra That Doi Tung; a holy shrine that acts as a Buddhist Mecca. It apparently contains a relic of the Lord Buddha himself and can be accessed via a treacherous mountain pass. The mountain is surrounded on all sides by awe-inspiring views, particularly looking out over the sparsely inhabited Shan States of Myanmar.
Another attraction on Doi Tung, which is considered the pride of Chiang Rai province, is Mae Fah Luang Arboretum (botanical garden) further up the mountain from the temple. It is seated on the border and apart from the magnificent gardens and exotic species, which where planted under the supervision of the present King's mother – the views of the Thai side are fantastic.
The town of Mae Sai, on the border with Myanmar, is a favoured destination for those needing to renew their visa by means of a day trip over to the small Myanmar town of Tachilek, which offers good shopping for cheap Chinese goods.
Tha ton is another curious place that gets a fair amount of visitors, chiefly because it's a way point en-route to the far north by the alternative (and safer) 107. It sits right on the Burmese border, straddling the Kok River, and has an intriguing hillside temple with numerous Buddhist statues and deities, including a magnificent and much recommended modern pagoda. Tha Ton is also the setting off point for boat trips down the river to Chiang Rai. It's also within easy reach of Mae Salong. Staying overnight here is peaceful, and there are several riverside bungalows. The more comfortable upmarket Mae Kok River Village is recommended.
Chiang Rai city can be accessed by bus from Bangkok in approximately 11 hours, or via daily flights from Bangkok, Chiang Mai and other destinations. Hiring a car to get there is most practical, although the windy roads can be a little treacherous due to reckless drivers.
Recommended Accommodation in Chiang Rai:
Amarin Resort: Sits in the city center and a 15-minute drive from Chiang Rai Airport. Each room is decorated in a modern Thai style and equipped with air conditioning, cable TV, free WiFi and minibar…more details and booking
B2 Chiang Rai: A boutique hotel, perfectly located in the heart of Chiang Rai. All rooms are in modern style and equipped with facilities such as air conditioning, cable TV, wireless internet and bathroom with a shower…more details and booking
Baan Bua Guest House: A budget guesthouse, sits 9km from Chiang Rai Airport and a 10-minute walk from the bus station. Surrounded by tropical gardens, it has everything you need for a pleasant stay like fans, private bathroom with a hot-water shower…more details and booking
Dusit Island Resort: A 5-star hotel, sits on its own private island along the Mae Kok River, only a 10-minute drive from Chang Rai. Features Northern Thai-inspired rooms equipped with modern conveniences. Other recreational facilities include swimming pool, tennis court, Thai massage service, airport shuttle service and fitness…more details and booking
Inn Come Hotel: A boutique hotel sits 9km from Chiang Rai Airport. The hotel provides everything you need for a comfortable stay. A great choice for travelers seeking for budget hotel with a good restaurant and great entertainment…more details and booking
Le Meridien Chiang Rai Resort: Sits in the city center and a 15-minute drive from the airport. All rooms are equipped with modern comforts. Hotel's facilities including boats, yoga room, fitness center, outdoor pool and spa treatment. An ideal place to relax and unwind…more details and booking
La Vie En Rose Hotel: Located just 3km from the city center and 5km from Chiang Rai Airport. Features modern style rooms come with high-quality facilities. The on-site restaurant serves a variety of both local and international cuisines…more details and booking
Laluna Hotel and Resort: Sits in Chiang Rai and a 15-minute drive from the airport. Offers modern Thai-style bungalows equipped with air conditioning, hot and cold shower, cable TV and minibar. A variety of facilities include outdoor pool, spa and restaurant…more details and booking
Phowadol Resort & Spa: A contemporary Lanna style resort, peacefully sits in Chiang Rai's countryside, a 15-minute drive from Chiang Rai Airport. All rooms are well decorated and equipped with modern conveniences. A variety of facilities include a free-form swimming pool and man-made lake…more details and booking
The Mantrini Chiang Rai Resort: Is only a 15-minute drive from Chiang Rai Airport. Features stylish rooms equipped with premium amenities. Hotel's facilities include an outdoor swimming pool, children's pool, lobby bar and restaurant. A smart choice for both short and long term stays…more details and booking
Wiang Inn Hotel: Located in Chiang Rai city center and a few minute's walk from the lively night market. Rooms are decorated in contemporary Thai style and equipped with facilities. The on-site restaurant serves both Thai and international Cuisines…more details and booking



Further reading…