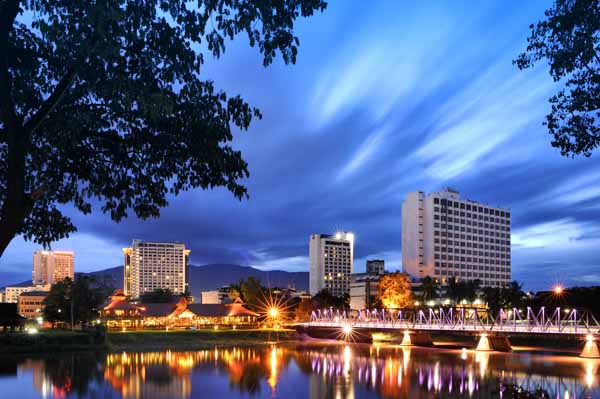 Not all hotels in Chiang Mai allow guests to bring back 'unregistered' companions. Others will try to charge you an extra fee if you come back with a bar girl.
We've taken the trouble of finding out which ones don't mind, and allow whoever you want to accompany you to your room. This isn't an indication of their respectability as each hotel has different policies as long as you're discreet.
Since we're the only site that's taken the trouble to find out this handy information, we encourage you to book here and enjoy the same discounted rates and availability as most other hotel booking services.
Hotels in Chiang Mai (which allow extra guests):
Lai-Thai Guesthouse (From: US$25) 
This popular and long-established guesthouse offers 110 air-conditioned rooms which are equipped with basic amenities. Guests may relax by the pool or enjoy a traditional Thai massage. The nightlife can be reached in under 10 minutes on foot…more details and booking
Chiang Mai Ratanakosin Hotel (From: US$25)
From this hotel the booming nightlife area with its go-go and girlie bars and the famous night market can be reached within a five-minute drive. Guestrooms are clean, comfortable and equipped with modern comforts…more details and booking
BP Chiang Mai City Hotel (From: US$30)
Positioned within walking distance of the girlie bars area and the night bazaar, this hotel offers pool, spa plus modern and sufficiently equipped guestrooms…more details and booking
Chiang Mai Hill 2000 Hotel (From: US$30)
This hotel is only a 15-minute drive away from the nightlife area, night market, shops and restaurants. The comfortably equipped and affordably priced rooms offer pretty mountain views. Guests may relax by the swimming pool…more details and booking




Maninarakorn Hotel (From: US$50)
Located near the city centre within reach of the historic Thapae Gate and the vibrant night bazaar, the three-star Maninarakorn offers 120 affordable rooms which are equipped with a full set of modern comforts. The city's best nightspots can easily be reached on foot. Leisure amenities include a swimming pool and gym…more details and booking
Studio 99 Serviced Apartment (From: US$60)
Enjoying a tranquil location but still within a short walk of the bustling city centre with its many shopping, dining and nightlife facilities, all of Studio99's apartments can be rented daily or monthly and are comfortable and equipped with a full set of modern guest comforts…more details and booking
Tamarind Village Hotel (From: US$120)
This reputed venue enjoys a central location in the core of the old town. Shops, restaurants, night market and the lively girlie bars area can be reached within a ten-minute drive. Rooms are well-appointed…more details and booking
Rachamankha a Member of Secret Retreats Hotel (From: US$150)
Though a fair way from the nightlife action, being in the west of the Old City, the Rachamankha offers luxurious rooms and a lovely pool area…more details and booking

Find more hotels in Chiang Mai on Agoda.com
Shangri-La Hotel (From: US$150)
The highly reputed Shangri-La is beautifully set amidst tranquil gardens and offers 281 luxurious rooms which are all fully-equipped with the latest comforts. Leisure amenities at this hotel are extensive. The lively night market and the booming nightlife area are just a 10-minute walk away…more details and booking
Puripunn Baby Grand Butique Hotel (From: US$160)
This hotel offers beautifully decorated and well-equipped guestrooms. Leisure facilities include a swimming pool, spa, massage service, Jacuzzi and fitness centre. The nightlife venues downtown are just a short stroll away…more details and booking
The Dhara Dhevi Hotel Chiang Mai (From: US$550)
This extremely luxurious five-star resort offers extensive guest facilities and services. A superb luxury retreat set amidst peaceful gardens boasting highly enjoyable leisure features such as swimming pools, spa and tennis court. The bustling nightlife area can be reached within a 10-minute drive…more details and booking
Four Seasons Resort Chiang Mai (From: US$600)
Situated in the serene Mae Rim Valley, this extremely luxurious establishment offers all the services and facilities guests would expect from a five-star resort. The hotel operates a shuttle service (25 minutes) to downtown Chiang Mai with its many nightlife venues, markets, restaurants and shops…more details and booking




Other Hotels in Chiang Mai:
Amora Tapae Hotel (From US$30, Plus 400 Baht for your guest), well-appointed guestrooms, 20-minute walk from the city centre, includes swimming pool and massage service…more details and booking
Suan Bua Hotel & Resort (From US$30, Plus 400 Baht for your guest), tranquil location amid tropical gardens, comprehensive leisure amenities, comfortable Northern Thailand style rooms, 30-minute drive from nightlife…more details and booking
Star Hotel Chiang Mai (From US$40, Plus 400 Baht for your guest), located near night bazaar and nightlife, rooms with basic amenities, includes pool and massage service…more details and booking
Eurasia Chiang Mai Hotel (From US$45, Plus 500 Baht for your guest), set amidst green gardens, comfortable rooms equipped with many facilities, 10-minute drive from nightlife entertainment, has pool…more details and booking
Duangtawan Hotel (From US$50, Plus 600 Baht for your guest), stylishly decorated rooms, located at a stone's throw from the girlie bars and night bazaar, has pool, wide range of leisure amenities…more details and booking
Suriwongse Hotel (From US$60, Plus 400 Baht for your guest), central city location, comfortably furnished rooms, has swimming pool, includes business centre…more details and booking
Further reading…