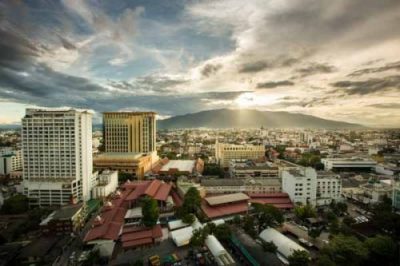 Chiang Mai is located around 700kms north of Bangkok and 250kms south of the Myanmar (Burmese) border. It sits well within the tropics – located 18 degrees north – and is surrounded by mountain ranges, forming the tail end of the Himalayan range.
The city of Chiang Mai is considered to be Thailand's second most important and is one of its largest. Despite this, it is a fraction of the size of Bangkok, with an estimated 400,000 people living in the greater urban area of the city. A growing community of long-stay foreign residents and tourists swell this figure by an estimated 100,000 during the tourist season.
An estimated 25,000 foreigners live in Chiang Mai (full or part-time), with a rapid increase since the turn of the millennium. This community comprises mostly British, Americans, Japanese, Koreans, Dutch, Swedish, French and a handful of other nationalities. Several English language magazines, a newspaper, and various clubs and societies support this foreign contingent.
Chiang Mai sits in a broad valley at an elevation of 330m above sea level. The valley is bisected by the Ping River – one of the four main tributaries of the great Chao Praya – running roughly north-south. Although northern Thailand is generally mountainous, this valley is entirely flat and covers some 200 square kilometres.
As much as 70 per cent of Chiang Mai province is covered in mountains and forests. Agriculture – mainly fruit, vegetables and some rice cultivation – is the mainstay of the local economy.
Lanna Handicrafts
A leading online artisan store which offers the very best in high quality souvenirs from Chiang Mai and the northern Thailand region. There are authentic tribal designs, antiques, teak furniture, textiles, art and much more at the best possible prices from suppliers you can trust. For more information: Mobile: (081) 993 1983 or
Email
.
In the past 10 years tourism has become an increasingly important economic growth point for the city. Other industry includes handicraft production, cottage industry, exporting, small-scale business, and manufacturing.
Chiang Mai dates back to 1296, when it was founded as the new capital of the thriving Lanna Kingdom. Lanna ('a million rice fields') pre-dates the kingdoms of Sukhothai and Ayuthaya and incorporated an area stretching from Chiang Sean (on the northern reaches of the Mekhong River) to Lamphun (just south of Chiang Mai). It is one of the few cities in the world that boasts a fully preserved square-mile moat and, even today, the corner ramparts and restored gates remain.
Chiang Mai has been continuously inhabited for over 700 years, but its fortunes have waxed and waned at the hands of invading armies from Laos, central Thailand and Burma. From the pinnacle of its strength under King Meng Rai (c.1300) to its submission as a vassal state under the Burmese in the mid 16th century, the city has managed to remain largely independent and was only formally included in the greater Thai Kingdom when the Lanna monarchy was extinguished early in the 20th century.
Note: 
Hotels in Chiang Mai Old City
offer some of the best value in Asia for comfort and style, and we've lined up the web's biggest room booker, 
Agoda.com
, for an instant search. Dozens of cheap guesthouses are also listed.
More facts on Chiang Mai
About 80 per cent of the local populace are deemed Khon Muang (meaning northern folk) and they speak a slightly different dialect to the central Thai language. The last census determined that were 1,728,242 residents in Chiang Mai province, although this figure doesn't include the minority hill tribes whose status is often in limbo, nor does it admit to the large presence of Burmese refugees.
Chiang Mai is bordered by the provinces of Lamphun and Lampang to the south, Mae Hong Son to the west, and the country of Myanmar (Burma) to the north. Chiang Rai province and Payao are found to the northeast. Chiang Mai is home to Thailand's highest mountain, Doi Inthanon, along with five other peaks counted among the country's 10 highest. It also has five major national parks and more than a dozen smaller ones.
The region enjoys a mild tropical climate, regulated by mountainous terrain and a monsoon season. Three distinct seasons dictate the weather in Chiang Mai. The cool season arrives in November and is typified by dry weather and temperatures ranging from 15°C (60°F) to 25°C (80°C) in the valley. From March onwards, the hot season is the least pleasant time of year, culminating in temperatures reaching 40°C (105°F) at midday in April, averaging 30°C (85°F). The first rains begin in late May and the rainy season continues through to October, with humidity above 80 per cent and daily afternoon downpours. Rainfall tops 250mm in September with lengthy overcast spells and all-day showers.
Further reading…