The city of Nophaburi Sri Nakorn Ping Chiang Mai was auspiciously founded by King Meng Rai in the early hours of April 12, 1296. Chiang Mai was intended to be the great new capital of the thriving Lanna Kingdom and, indeed, it was to become one of the most important cities in the region.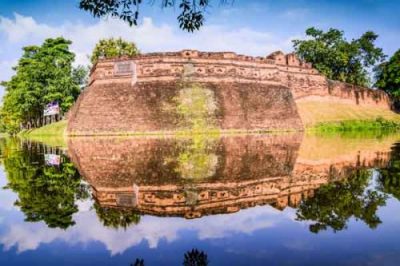 The square laid out was 1,800m by 2,000m, and in time a moat would be added to mark out the boundaries of Chiang Mai and safeguard the people within. At each corner a bastion, each with cosmological significance, was built, while four main gates located on each of the flanks faced towards the four points of the compass. Today, these landmarks remain to form an overwhelmingly unique character of Chiang Mai for which this historical city is famed for.
In those early days of Chiang Mai the Ping River (to the east of the original settlement) was the primary focus of the valley and brought traders from China and beyond, as well as providing water for agriculture that has long been a mainstay of the local economy. Today, visitors to Chiang Mai come from all over, not as traders, but as tourists, who admire the incredible history, relax amid nature, and enjoy the famous Thai hospitality.
Over the centuries the Lanna Kingdom grew in strength and Chiang Mai became a wealthy centre. The many beautiful temples and chedis that still stand today are a legacy of Chiang Mai's distinguished past, and a distinctive culture developed independently of the great kingdoms of Sukhothai and Ayutthaya that were to arise after the heyday of the Lanna Kingdom.
Though Chiang Mai may have been overrun by the Burmese, and almost deserted at one time, Lanna culture survived intact, passing down ancient traditions and skills. Modern Chiang Mai relies heavily on its past, and a thriving handicraft industry based on timeless skills and methods has turned it into one of Thailand's shopping magnets.
Welcoming visitors is an art perfected in Chiang Mai, and recent decades have seen the city emerge as one of Asia's most popular, best value destinations. People come to experience the beautiful mountainous scenery of Northern Thailand, go trekking, eat, drink, party, delve into history, and seek out adventure. The quiet winding lanes of the old town, rustic old wooden guesthouses, lively riverside restaurants, colourful hill tribe folk, and the bustling Night Bazaar all contribute to make Chiang Mai an unforgettable destination.
Bet you didn't know that!
Chiang Mai was originally established east of the Ping River, but persistent flooding prompted King Mengrai to abandon it in favour of the present city site. The river later changed course, the original city was silted over and eventually became buried under lychee plantations. Parts of the ruins were discovered in the 1980s and more than two dozen sites have now been excavated. Wiang Khum Kham is Chiang Mai's own Atlantis, waiting for Indiana Jones to show up.
Further reading…